Que es un jachetta airbag e como functiona?
Le sistema airbag integrata in le jachetta ha aperita nova dimension al securitate del motocyclistas. Jachettas esse equipate con un airbag pro proteger a le motocyclistas contra le vulneres al impactos. Jachetta ha un cablo e un CO2 cartucha. Quando nos sede sur le motorcyclo debe nos connecter a le corpore de motorcyclo. In evento un accidente, quando le motocyclista distacca se ab le motorcyclo, le cablo ha separata ab corpore de motorcyclo ha activate le CO2 cartucha, immediatemente (approximativemente 100 de 300 millisecundas) e automaticemente infla le jachetta. Le jachetta con airbag protege efficientemente le plus vulnerabile organos del motocyclista, exemplo: columna vertebral, collo, costa, clavicula et cetera.
Jachetta con airbag - collision prova (crash-test)
Le jachetta con airbag es un invento hungaro
Le jachetta con airbag para motorcyclistas/cavalleros es un ancian invento hungaro. Inventor es Tamás Straub. Le annuncio official esseva in 1976, le publication in 1977. Le documentos original del annuncio del invention on pote reguardar hic. Copia official aliquando disponibile al Officio Hungaro de Patentes (Hungarian Intellectual Property Office).
Cata anno se poterea salvar le vita de milles...
Cata anno se poterea salvar le vita de milles de motorcyclistas, si on usarea le jachetta con airbag in toto partes del mundo.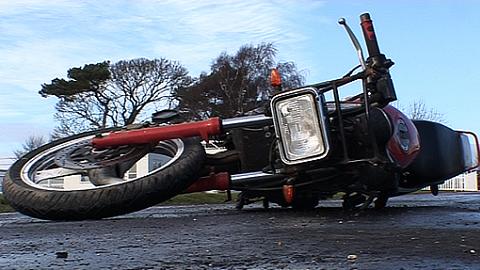 Dozens of motorcyclists' lives could be saved every year (only in UK) if air bag jackets were made compulsory, accident and emergency doctors have said. The jackets are the equivalent of car air bags and inflate if the rider is thrown off during a crash. In one version, the jacket is attached to the bike by a lead which detaches when the rider has come off suddenly. The Department of Transport said it had no plans for a new law but said it welcomed anything to improve safety...
Lege plus
Le Guarda Regal (in Espania) usa gilet con airbag.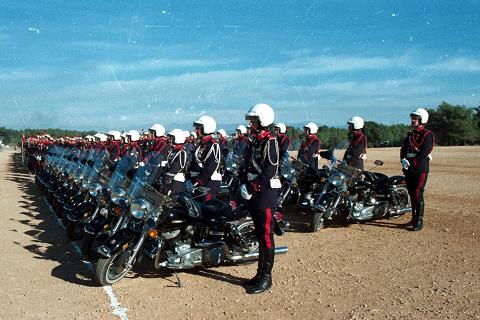 Le policieros usa le jachetta con airbag in Japon, ...
Le policieros usa le jachetta con airbag in Japon, Francia, Italia, Statos Unite de America, Brasil e Taiwan.