Airbag vest for skiers
Which are the best Airbag Vests or Jackets in 2020?
May, 2019 (updated)
Airbag vests have been used by motorcycle police around the world since the mid 1990's. They are now commonly used by riders on race tracks. After making an impact in these markets, manufacturers have now switched their attention to us everyday riders.
The vests and jackets available today strike a nice balance between safety, comfort, and looking good. Airbag vests are lighter than jackets, but still offer the same amount of protection. They easily fit over your normal jacket or clothes.
My advice to any new and older experienced riders, is to invest heavily in quality gear and these vests and jackets make the odds better on surviving an accident with less injuries.
The World Health Organisations Global status report on road safety for 2018, highlights that the number of annual road traffic deaths worldwide reached 1.35 million. Road traffic injuries are now the leading killer of people aged between 5 to 29 years old. 28 percent of these deaths are of motorcyclists.
If you are a safety conscious rider, or have kids or a partner who regularly rides, then airbag vests are a personal protection item that's really worth considering... Read more
Airbag Can Protect Olympic Skiers in High-Speed Crashes
September, 2018
Downhill skiing is a dangerous sport. Even the most experienced skiers may get involved in a catastrophic crash. Luckily, there's a way to protect against such accidents, thanks to the new D-air system by Dainese. The system is based on an existing airbag system Dainese developed for motorcycle racing. In 2012, the Italian company was approached by ski racing's governing body, the International Ski Federation to adapt the suit for ski racing. ... Read more
Wearable Airbag Vest Aims to Prevent Injuries
February, 2017
Most people have an airbag in their car, but owning one you can wear is a new innovation that will soon hit shelves.
In&motion came up with the idea initially for skiers. According to their website, the vest detects unavoidable falls and inflates in under 100 milliseconds. The vest will protect the most sensitive areas of your upper body from impact.
Top WC racers have been using the vest for the last two seasons in Alpine and Skicross, but the vest will be in stores this summer thanks to In&motion's partner Rossignol.
After various tests, it was proven that the vest provides four times greater energy absorption capacity than standard dorsal protection, In&motion reported.
So, how does it work? The system measures the skiers position and movements, and can tell when a user has lost balance. In less than 100 milliseconds, the airbag inflates at optimum pressure for protection. The system can even analyze the data from the skiers fall in order to upgrade detection and offer better protection for the next fall.
The vest was approved by the International Ski Federation in Alpine Skiing and Ski Cross along with National Ski Federations. ... Read more
Olympian Matthias Mayer avoids major injury with airbag
Dezember, 2015
In less than a tenth of a second, safety in ski racing took a huge leap forward on Saturday.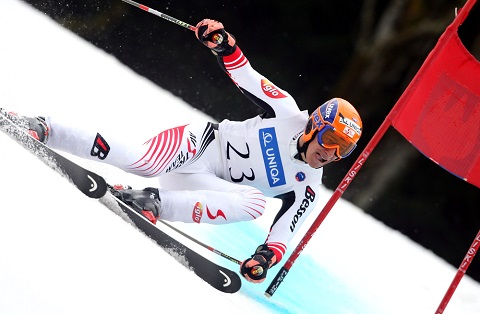 (Foto: GEPA pictures/ Hans Simonlehner)
That was the time it took for a radical air bag system to inflate and prevent Olympic champion Matthias Mayer from serious injury during a nasty crash at the classic Val Gardena World Cup downhill.
The Austrian lost control on the Saslong course and spun around, flying down the hill backward in midair. Before he landed on his right side, the air bag vest under his race suit inflated and softened his landing... Read more
Airbag Is Approved, but Ski Racers Are Largely Shunning It for Now
February, 2015
In 2011, Dainese, working with F.I.S., began developing an airbag, right, that could be used in skiing.
Broken collarbones. Shattered shoulders. Internal bleeding. Punctured lungs. Those injuries, and worse, are possible every time a world-class skier plunges out of a starting gate and slides down a snowy racecourse.
Given that, it is not surprising that skiing's international governing body recently approved for use an airbag safety device that has been in development for nearly four years. But many racers have expressed reluctance toward the new technology..
To outsiders, this reaction might seem incongruous. What skier hurtling downhill at up to 90 miles per hour would not want a bit more protection, especially if his or her neck, shoulders and chest might be shielded in the event of a violent crash? ... Read more
New Airbag System Approved For World Cup Racers
November, 2014
Starting next January World Cup racers will be able to wear inflatable airbags. It is a similar system used by motorbike racers that inflate in high-speed crashes and offer support to the head and neck.
The system has been developed by Italian manufacturer, Dainese, in coordination with the International Ski Federation, FIS. It has three accelerometers, three gyroscopes, a GPS, and onboard electronics that collect all the data and deploy the airbags before a racer crashes into the ground. Read more