Riding gear with airbags are one of the greatest safety innovations for motorcyclists ... (Wired.com)
Airbags changed automobile safety. Airbag jackets are about to do the same for motorcycles.
Motorcyclists represent 1% of traffic yet account for up to 20% of the deaths and serious injuries on the roads. Motorcyclists involved in accidents are 40 times more likely to be killed than car drivers.
What is an airbag jacket and how does it work?
After the helmet, the airbag jacket is the most important safety innovation. Jackets are equipped with an airbag to protect motorcycle riders against injuries upon impact. Airbag jackets have two anchoring cables and a CO2 cartridge. One of these anchoring cables needs to be connected to the frame of the bike and remains there. In the event of an accident, when the rider falls off the bike the cable will separate from the bike activating the CO2 cartridge to instantly inflate the jacket in approximately 100 to 200 milliseconds. The jacket provides extra protection to the most vulnerable parts of the body (the spine, neck, ribs, collar-bone).
The airbag jacket is a Hungarian invention
The airbag jacket (and vest) for motorcyclists (horseriders and in recent times for skiers) is a long-standing Hungarian invention. It was officially registered in 1976, published in 1977. Inventor: Tamás Straub. You can look at the original documents of the invention here. Copies are available from the Hungarian Patent Office (Hungarian Intellectual Property Office) anytime.
Airbag jacket - crash-test
Which are the best Airbag Vests or Jackets in 2020?
May, 2019 (updated)
Airbag vests have been used by motorcycle police around the world since the mid 1990's. They are now commonly used by riders on race tracks. After making an impact in these markets, manufacturers have now switched their attention to us everyday riders.
The vests and jackets available today strike a nice balance between safety, comfort, and looking good. Airbag vests are lighter than jackets, but still offer the same amount of protection. They easily fit over your normal jacket or clothes.
My advice to any new and older experienced riders, is to invest heavily in quality gear and these vests and jackets make the odds better on surviving an accident with less injuries.
The World Health Organisations Global status report on road safety for 2018, highlights that the number of annual road traffic deaths worldwide reached 1.35 million. Road traffic injuries are now the leading killer of people aged between 5 to 29 years old. 28 percent of these deaths are of motorcyclists.
If you are a safety conscious rider, or have kids or a partner who regularly rides, then airbag vests are a personal protection item that's really worth considering... Read more
Everything you need to know about motorcycle airbag systems
September, 2019
One important safety innovation in recent decades is the motorcycle airbag system.
The History Of Motorcycle Airbags
Unlike cars, motorcycles don't have seatbelts, cages, and crumple-zones. As airbag systems started becoming increasingly common in automobiles in the mid-1970s, one Hungarian inventor by the name of Tamas Straub began developing what is widely recognized as the first patented airbag system for motorcyclists (and equestrians) in 1976... Read more
Inflation Never Seemed So Good: Motorcycle Airbag Review
September, 2015
We've grown accustomed to airbags in cars; the first patents were taken out way back in the 1950s, with production models arriving twenty years later. NASA have used them on spacecraft, bags cushioning the landing of Luna 9 in 1966 and of Mars Pathfinder in 1997. Although a motorbike airbag jacket was actually a Hungarian invention, with a patent registered in 1976, ... Read more
New Airbag System Approved For World Cup Racers
November, 2014
Starting next January World Cup racers will be able to wear inflatable airbags. It is a similar system used by motorbike racers that inflate in high-speed crashes and offer support to the head and neck.
The system has been developed by Italian manufacturer, Dainese, in coordination with the International Ski Federation, FIS. It has three accelerometers, three gyroscopes, a GPS, and onboard electronics that collect all the data and deploy the airbags before a racer crashes into the ground. Read more
No comments ...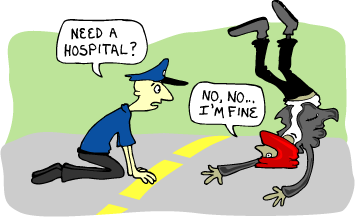 Motorcycles Just Got a Lot Safer
October, 2014
Motorcyles can be dangerous. They're hard to control, difficult for other drivers to see, and crashes often put the rider's life in serious jeopardy. But that's part of the thrill – that exhilarating feeling as you're cruising at high speeds, only a jacket and helmet between you and the world. If only they could make riding a little safer
That's where motorcycle airbags come in. Italian companies Ducati and Dainese recently partnered to create D-Air, an integrated airbag jacket that senses collisions wirelessly and deploys within milliseconds – the first production motorcycle in history to have one. But believe it or not, airbag jackets have been around for much longer than that. It's not a new idea, by any means. Let's take a look at their history and how they got where they are today.
Rider-Based Airbags
Hungarian inventors actually brought us the first airbag jackets in 1976... Read more
Motorcycle air bags: The faster, the safer
July, 2013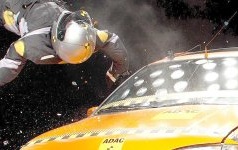 The ADAC tested two chest airbags that are integrated in vests.
They belong to the few items motorbike riders may wear to protect themselves during a crash: air bags integrated into vests. However, how well they protect the wearer depends on how quickly and dependably they open up during a collision. The ADAC recently tested two of the motorbike vests with integrated air bags that are currently available on the market ... Read more
Thousands of motorcyclist's lives could be saved ...
... every year if airbag jackets would be used all over the world.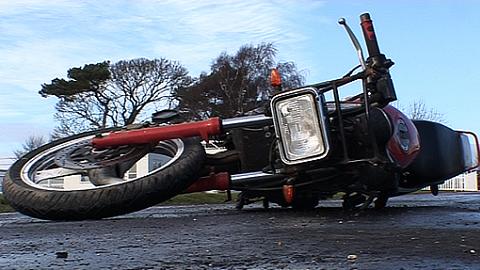 February, 2009
Dozens of motorcyclists' lives could be saved every year (only in UK) if air bag jackets were made compulsory, accident and emergency doctors have said. The jackets are the equivalent of car air bags and inflate if the rider is thrown off during a crash. In one version, the jacket is attached to the bike by a lead which detaches when the rider has come off suddenly. The Department of Transport said it had no plans for a new law but said it welcomed anything to improve safety... Read more
Motorcycle airbag jackets are already in use ...
... by police departments in Brazil, Italy, France, Spain, Japan, Taiwan etc.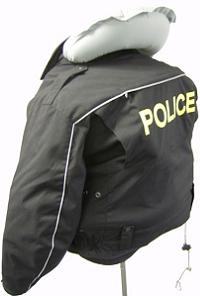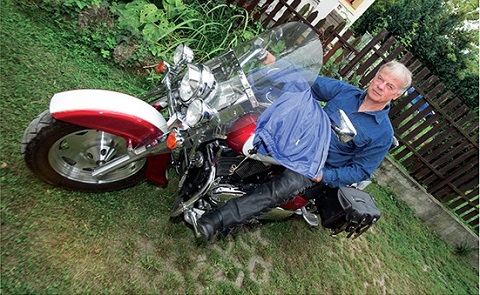 Straub Tamás, inventor of the airbag jacket (2016)